How to create an activity on the eola platform
by Anna Lane
We know how important it is to have a booking platform that makes it easy for you to set up activities, saving you time and effort. eola was developed with the goal to ensure a smooth management process for experience providers.
Below is a step-by-step guide on how to set up your activities on the platform.
Get started
1. To navigate from the home page on your dashboard to the activities page click on products then activities on the left side menu.
2. Start creating your first activity by clicking on create at the top of the page.
Activity details
3. Fill in the basic details of your activity such as activity name and description of your activity.
4. On the customer comms tab you can add information you would like to be sent to the customers once the booking is complete, such as what they should bring on the day.
5. The meeting point tab gives you the choice to add a specific meeting point for the activity.
Activity schedule
6. On the schedule page you can input all available dates and times for your activity. To add more than one time slot just click add another.
7. You can also repeat an activity daily, weekly or monthly until a chosen end date.
Pricing model
8. On the pricing page, you can input your pricing model and choose to add separate pricing for children and adults.
9. You can create add ons to your activity e.g. renting a helmet or the price of a sandwich included in the booking.
10. You have the option to make the activity an exclusive booking, meaning it will be private and not appear publicly.
11. You can also choose to offer group pricing depending on group sizes.
Options
The options page is the final step of your activity set up.
12. Here you can choose your display settings, such as updating your imagery and having activities featured or hidden from the public.
13. You can also enable gift vouchers and passes for activities.
14. Lastly, you can add question packs and activity disclaimers if you have added these in your toolset.
Once that is done you, just click launch, and your activity is fully set up.
Your activity is available to book!
You can see and manage your activities from the eola calendar on your dashboard. Learn more about how to manage the calendar.
For more advanced features and options you can view the eola apps and easily enable those that are best suited for your business.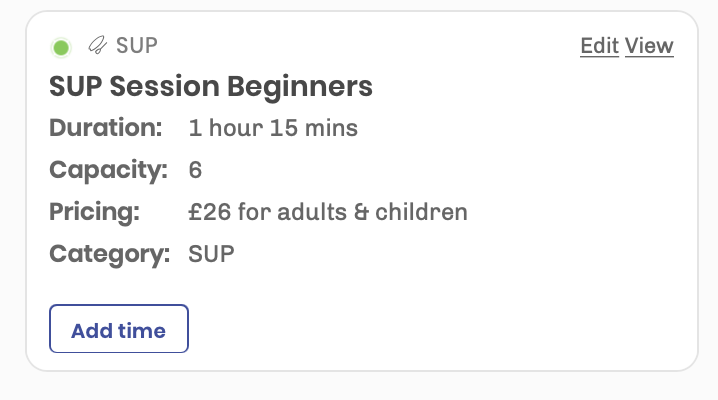 The process is simple, and easy to follow. Once you have created the activities, the booking process is automated. No need to email back and forth, or worry about schedule clashes. This will save you time and energy, so you can focus on delivering outstanding experiences.
For more information and support follow us on Instagram, Facebook and Twitter.
Looking for more information on how to increase revenue and sales on your business?
Read More:
How to use images to inspire and engage.
Not currently working with eola?
We are a next generation booking management platform.
We're here to help you succeed.
Learn more
---
Next article: How to set up payments on eola