What to post on social media and why
by Ed Scott
Just set up a social media account for your experience business? Great! Now it's time to start posting.
A major part of building a successful social media presence is regularly coming up with fresh ideas for what to post. Luckily, as an experience business, you're already ahead of the game, as activities and outdoors content are hugely popular on all social media channels.
In this article, we've put together some tips for deciding what to post on social media to boost engagement and grow your business.
Not sure where to get started with social media? Find out which social media platform is right for your business.

Invest in good photos
Good photos are king when it comes to a good social media presence, so it's worth investing time in getting them right. Pictures should be clear, vibrant, emotionally engaging, and, of course, relevant to your brand and the experiences you offer.
These days, almost everybody is carrying out a high quality camera in their pocket, in the form of a smartphone. With a little bit of practice, you can take great pictures on your phone, especially if you invest some time getting to grips with basic photo editing principles. Adjusting the exposure, contrast, and colour grading of your pictures can bring them to life, as well as ensuring they are straight.
Find out more about how to use images to inspire and engage.
If you have a budget, consider hiring a local photographer. You could get enough content in one morning to last you for months, and the high quality of the photographs will add trustworthiness and authenticity to your business.
Show, don't tell
Whether you're snapping photos, shooting video, or writing text, a good principle to stick to is Show, don't tell. In other words, don't pour your energy into telling your viewers what a great time they could be having with your business - show them!
Post content that speaks to your audience, rather than at them. Photos and videos of people enjoying your activities will always do well, provided they are properly shot and emotionally engaging. You could also post profiles of your staff and pictures of your facilities, to help your audience get to know who you are as a company.
As an experience business, your content should focus on three 'W's: what you offer, where you offer it, and who you are as a company. If your content is clear and engaging, the why will take care of itself.
View this post on Instagram
Create topical posts
Posting about current events is a good way to build engagement. These could be seasonal events like Halloween or Christmas, or special occasions like a local festival, a famous birthday, or a sporting event. Get creative and scour the web for ideas - chances are there's an 'International Day' for many of the activities you offer (June 26th is International Canoe Day!)
The key is for your content to feel dynamic and current. If you've got an offer running on a certain activity, post about it. If it's a particularly lovely day to enjoy your activities, post about that. Give your audience a sense of the vital, ever-changing business that you are.
Are you looking for some festive activities this December? @LlandegfeddLake in South Wales offers a magical lakeside brunch with Father Christmas himself! Expect Santa to arrive on his speedboat - Christmas in style! https://t.co/lLy4OaeJ7Z pic.twitter.com/j0CfA4qZjp

— eola (@eolaofficial) December 6, 2021
Make use of stories
Both Facebook and Instagram have a Stories function, which lets you post photo and video content that is only visible for 24 hours. This feature is a great way to provide your audience with 'snapshot' insights into your activities, and keep your business front-of-mind. A quick ten-second video when you're out paddling, for example, demonstrates directly the experience your customers can expect when they book with you.
You can also use stories for other engagement initiatives. You can post polls and Q&As to engage directly with your audience, and Instagram allows you to include a link in stories, so you can link directly to your booking page for a given activity and encourage bookings. You can also share posts from your feed onto stories temporarily, boosting engagement.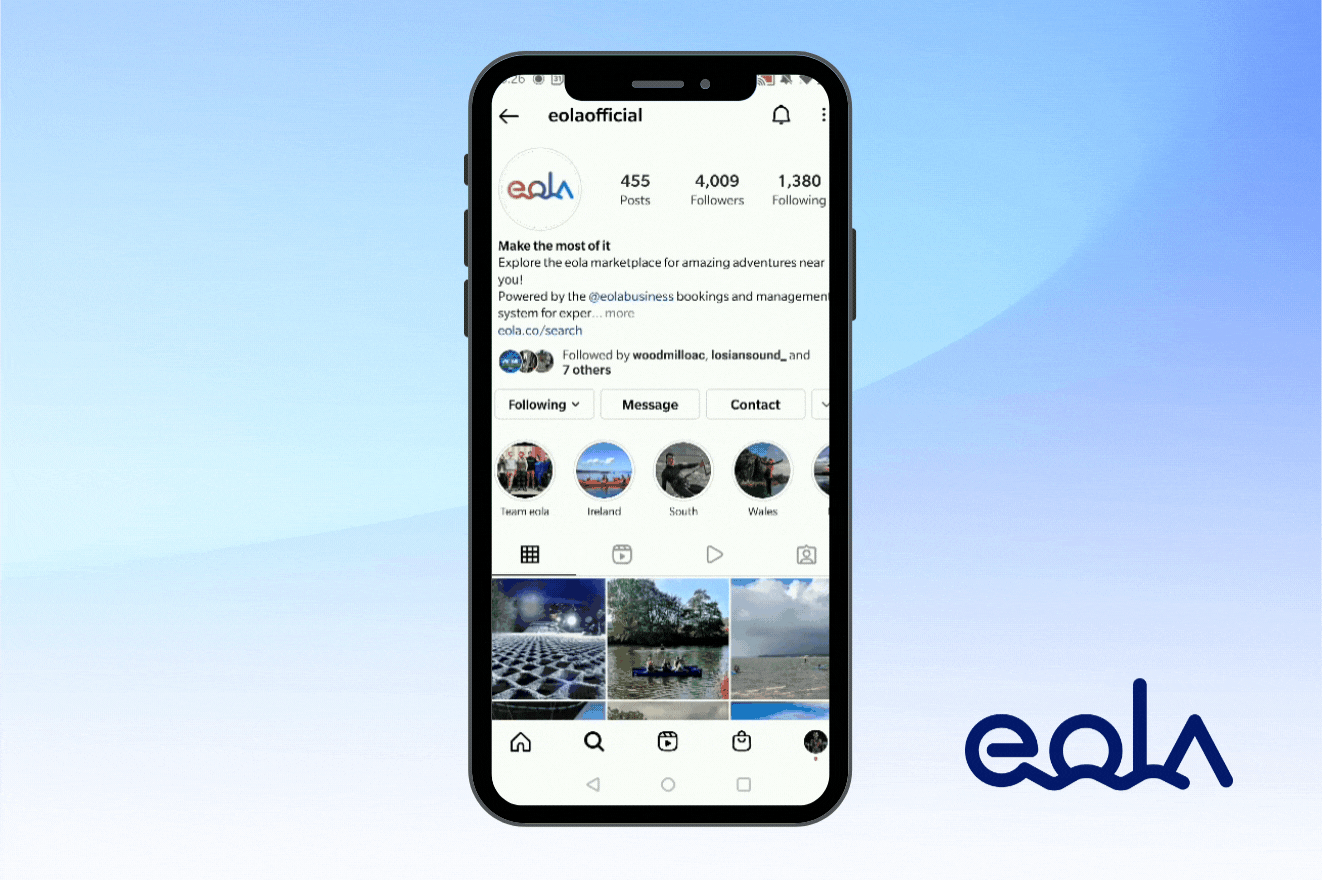 Consistency is key
Posting consistently on social media is arguably more important than posting frequently. Occasionally a post might go viral, and earn a huge amount of engagement, but generally speaking it's consistency that drives growth.
Decide on a posting schedule and try to stick to it. This could be as little as one post a week, or as many as multiple posts a day - the key is to make it achievable. Remember, you can always add an extra post here and there if you have the time. Make sure to include stories in this schedule if you use Instagram, in particular.
Once you've decided on a schedule, you can use free scheduling tools like Later, Buffer, or Planable to write up your posts in bulk. This way, you don't have to be 'always on' when it comes to social media. You can set aside time each week to plan and schedule content, and spend the rest of your time focusing on what matters - delivering outstanding experiences.
We hope this article has given you some insight into getting started on social media. The key is to 'keep it real' - don't try and portray your business as something which it isn't. Focus on what you have to offer, and sharing that with the world.
If you'd like to find out more about growing your business with social media, check out our free guide to social media at the link below.
Be sure to check out the eola Academy for more guidance on building awareness around your business, and give us a follow on our own business Instagram account for all the latest information about eola.
Read more
Download our free social media guide for experience businesses
Which social media platform is right for my business?
5 benefits of social media for experience businesses
Not currently working with eola?
We are a next generation booking management platform.
We're here to help you succeed.
Learn more
---
Next article: A guide to PCI compliance with eola