eola press kit
by Maria Rangin
Let's grow together
We're the online booking and management platform that lets you spend more time doing what you love
Highlights
eola makes the booking and management processes faster and easier for businesses and customers via their beautifully simple operating system
Founded in a flat in silicon roundabout in September 2017 by two guys inspired by their own desire to experience more during their free time
The eola booking and management platform launched in 2019
The eola experience marketplace launched in 2020
Over 100+ experience businesses are actively using the eola booking and management platform
Over 40,000 people did something amazing in 2019 because of eola

About the eola booking system
eola's next generation booking and management technology enables businesses to easily manage all their day-to-day admin via one beautifully simple platform, saving valuable time to focus on delivering outstanding experiences.
Businesses can manage bookings, payments, instructor and equipment allocation, waivers, cancellations, and more, all in one place on any device, anywhere.
About the eola marketplace
Launching in early 2020, the eola marketplace aims to get more people outdoors and experiencing new adventures.
The experience marketplace is powered by the eola booking system, not only making it easier for customers to find new experience but also ensuring real-time availability and faster than ever booking flows.

The eola story
eola started from the founders' own frustrations with the booking experience. When they started speaking to businesses in the industry, it quickly became clear that there was a significant need for more options to come online.
85% of the bookings in the industry are still taken offline via time intensive processes causing friction with consumers and high drop-off rates. Even a small business is likely to spend more than a collective 10 hours per day managing incoming bookings and easily automated administration, costing them many thousands every year.
If you want to order a pizza, or book a flight or hotel, you don't reach for the phone, you look online. eola wants to bring that same ease of flow to the experience industry in a way that removes the hassle of administration.
eola's next generation booking technology is a fast, simple and efficient solution to make it easier than ever for businesses to come online with just a couple of clicks.
Why eola stands as unique
Every feature they've built - from the smallest to the largest - has been carefully constructed on the same belief. That their platform should be better than a selection of tools.
They should be unified as a beautifully simple system that is a delight to use.
Whether you're on a phone in a field, a tablet on a beach, or a laptop at home, eola is designed to work perfectly on any device, any time, anywhere.
To make that all happen the co-founders started to build the team that is now the most important part of eola.
The eola founders
eola was founded in a flat in silicon roundabout in September 2017 by two guys inspired by their own desire to experience more during their free time. Together they are reshaping the future of online booking in experiential tourism.
Daniel Steele, CTO
Dan is the Co-Founder and CTO of eola. As a serial entrepreneur he has been both a CEO and founding member of several fast growing and hugely successful tech companies in the UK. Previously CEO of Omnidev, Lead Engineer at a VC, and first tech hire in the UK's fastest growing tech company, Dan is an expert in building scalable and high performance technology as well as an expert in the startup world. When he is not writing code or working to make eola one of the fastest and most simple online platforms available, he can be found pursuing his other passion as a light aircraft pilot.
Callum Hemsley, CEO
Callum is an experienced product and commercial strategist. He has worked in start-ups and scale-ups for more than 7 years. He was a member of the founding team and head of product at Fabrily until its acquisition exit by US based Teespring where he worked as a Senior manager of Technology and Strategic Execution. He is an expert in business and commercial strategy having held senior strategic roles throughout his career. He also has strong insights into the building of scalable and stable technology that provides effective solutions for customers. When he's not busy raising money and investing time into eola and its partners he can be found indulging in his passion for global cuisines and adventure.
The eola team
During the last year the eola team grew from 3 people in the beginning of 2019 to 11 people in the beginning of 2020. We are a diverse team unified by our vision and mission at eola.
The commercial team
The engineering team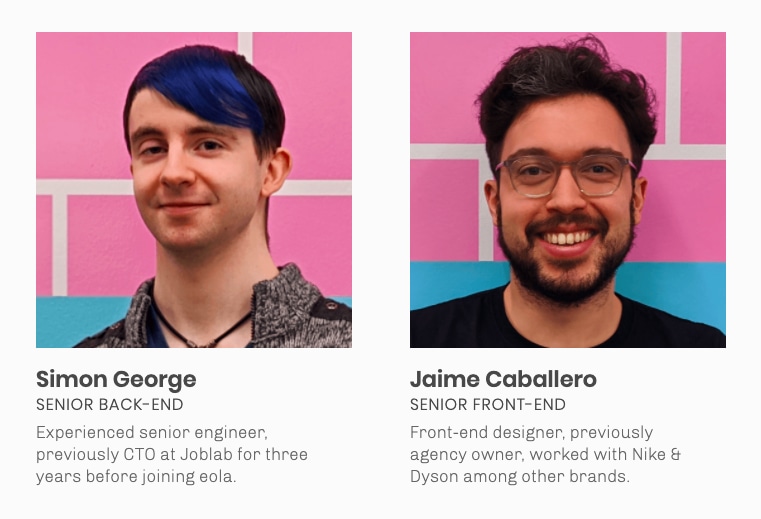 Partner testimonials
"Great personal hands on approach to helping us develop our online booking system. Up to date information & always answers questions. Great to work with such a passionate team. Good luck for the next part of the journey"
- Owner, Steph Bridge
"Easy to install and setup the eola booking widget on any website with just a small snippet of code. Setting up the products in the eola market place is easy and straightforward, and fully customisable to display content that correlates with your brand and products. Can be used as a point-of-sale tool for manual over-the-phone/face-to-face bookings. Super simple flat pricing, ideal for a small operator like us. Customer support is quick to respond and resolve all queries."
- Owner, Gavin Walsh
"Easy to use for clients to book in and easy to use for hosts. It is going to reduce my admin significantly next season. The ui is easy to use, very fast and works great in areas with poor mobile signal, (ideal for locations like mine). These guys are forward thinking and have created a fast intuitive booking system that is getting better and better with each development."
- Owner, Simon Turner
Press releases 2020
eola wins silver in the 2020 One Planet Awards Startup of the Year category
eola joins the 2020 Techstars Accelerator Programme
eola become headline sponsor for GBR Series from 2020
Contact
Our offices are located at:
18 Finsbury Square, London EC2A 1BR, United Kingdom
For press enquiries please contact:
Maria Rangin
Head of Marketing
maria@eola.co
For other enquiries please contact:
hello@eola.co
020 3769 5767

Visit us on Instagram | Facebook | Twitter | LinkedIn
Read more on our adventure blog or partner academy
Not currently working with eola?
We are a next generation booking management platform.
We're here to help you succeed.
Learn more
---
Next article: Sign-up before end of the year and get £3000 in fee-free bookings