Why eola's booking platform is perfect for you
by Callum Hemsley
We know how difficult it is to be an activity provider. Juggling incoming calls, emails, and requests, with managing your customers, administration, payments, waivers, accounting… It's a wonder you ever get a chance to do the actual activities.
eola is our answer to that. We have built a platform which manages all of that automatically. You can get out there and do the sports you love, safe in the knowledge that when you get back inside, you'll have new customers lined up who have paid, signed waivers, and know what to do and where to go.
We are still young and every day our platform grows and evolves. Every day we are talking to and meeting with activity providers who work with us. We want to really deeply understand their needs to make sure we are building the best system for them.
Check it out here if you are curious! Below are some of our favourite live features and upcoming features:
Easy set-up and management
With eola, the entire set-up process - including your entire list of activities and events, and adding a direct booking widget to your site - takes less time than drinking a cup of tea.
It is extremely simple and intuitive, and requires no technical knowledge.
Any challenges faced by any of our users; you can be assured that we will be around to chat at any time of the day or night, straight away. We believe in making sure we work with you, not just see you as some anonymous user.
Hyper-optimised payment flow
Now this is definitely cheating. As a team, we have many years experience building the highest converting online payment flows around. Any customer who wants to book with you can do so in under 20 seconds, through a cutting-edge, ultra secure flow, working with the industry's leading payment partner.
No need for you to install any separate software, or do any fiddling; don't worry folk, we got this.
Customer management in a pinch
Our dashboard and agendas are designed to make it super simple and obvious who you have coming, when, and with which of your instructors. Each instructor will be automatically managed through our platform, and you just have to oversee it. But not to worry, you can edit it wherever needed.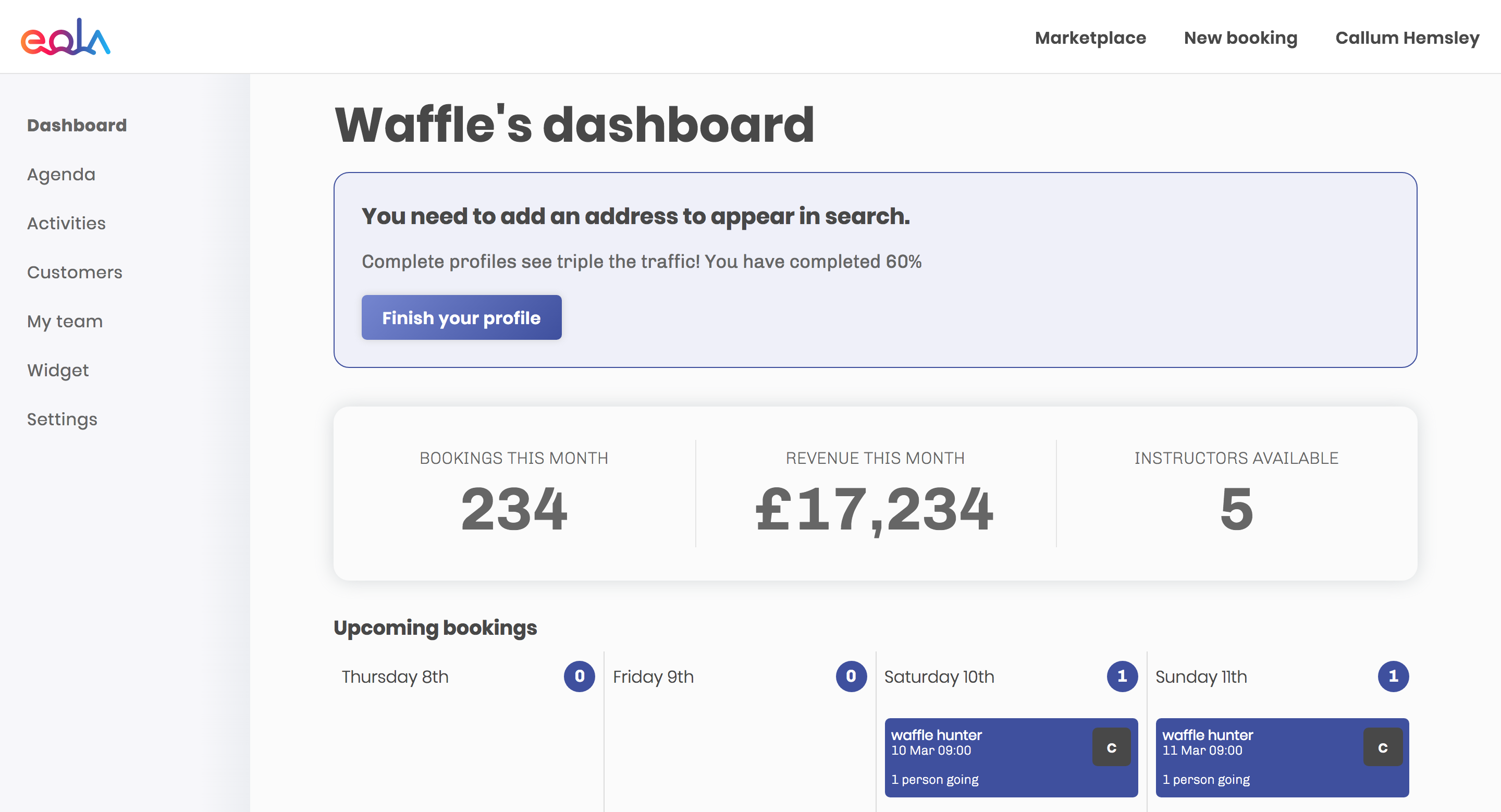 Better still, at a glance, you know who hasn't paid or signed waivers, and with a single click, can auto-send reminders for them to do so, but our platform will do that for you if you don't want to.
Even better than that, if the weather turns sour last minute, a single button click will notify all of your customers and give them options for re-booking.
Mobile optimisation
Everyone says they have it. It's almost a buzz-phrase these days. However, our entire platform is designed for mobile first. That means that it looks absolutely gorgeous on mobile, and is just as crazily simple and intuitive.
Plus, sorry guys, cheating again here. We are industry leaders at site optimisation. Our site is faster than more than 99% of websites on the internet. Google ranks us 99/100 for mobile site speed and optimisation, so no need to worry about having poor internet.
We are even building in offline functionality, to allow users to do things on our platform without internet, which update on re-connection.
Community & Values
eola isn't just our technology and platform. It is our views as people. We want to build a community around this to bring more folk together. As soon as we have enough core users, we are going to create a facebook group to connect together activity centres around the country.
Despite running an essentially social business, it can be lonely and bloody hard. The more we can get to know each other and work together, the more we can achieve.
We want everyone to be able to share wisdom, stories, and maybe a few sneaky competitions, with other folk in the industry along with plenty more besides.
Other cool stuff
Honestly, I could talk for ages about some of the crazy stuff we are doing; there is a LOT more I could say. But let me just end with this; we are rolling out technology to automatically account for weather and climate.
Our first phase is tides, which means that you can create each lesson to generate the entire year schedule around different tide points, without having the hassle of going one by one, or looking up dreary tide tables.
In future, we have a lot more planned besides, so stay tuned on this front!
Last remarks, honest...
If you like what you see, why not sign up now? It's completely free to set up and use; our only cost is a small cut of online payments, otherwise, it is 100% free.
If you're curious but not sold, why don't you drop us a line for a chat? There's no expectation that everyone will sign up, but the more folk who call us to tell us about the challenges you face, the more we can ensure we are solving them.
Email me directly on [email protected] today if you would like to chat adventure sports, weather, politics, or maybe even eola if you're interested. We're pretty friendly. 🤙
Enjoyed this? Free this weekend?
We have the best deals for adventure sports across the UK.
Check out activities
---
Next article: The beginning of the eola academy